Using Reviews to Boost Customer Satisfaction and Conversion with Junip & Lucky
October 26, 2022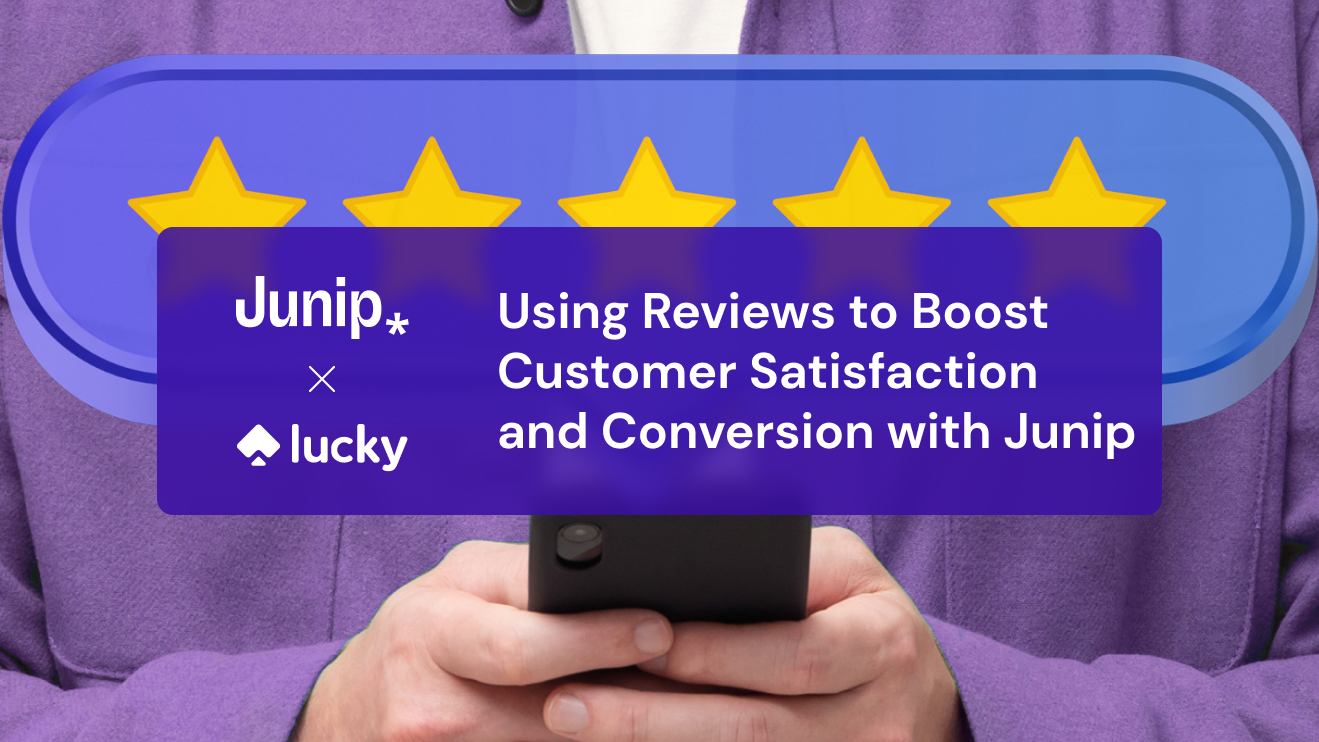 Customer reviews are more critical for online brands than ever before. But getting authentic reviews with media, such as photos and videos, can be challenging. Stuart Arsenault, CEO of Junip, sat down with our own CEO, Sneh Parmar, to discuss how brands can use authentic reviews to improve profitability in the long run.
eCommerce Brands Facing New Challenges
Since the introduction of iOS 14, digitally native brands have been facing increased difficulties in continuing to grow their businesses.
Brands have to capitalize on converting a higher percentage of customers.
One way to accomplish improved conversions is through customer reviews.
Some eCommerce channels, such as Google Shopping, are purely intent-based and haven't been touched by these recent changes.
Reviews are a huge component of these shopping experiences.
According to the Spiegel Research Center, 95% of customers read reviews before making a purchase.
The Importance of Authentic Customer Reviews
For understandable reasons, many digitally native brands are obsessed with getting five-star reviews, as they do not want to lose potential customers from bad reviews.
Brands may be tempted to moderate bad reviews out of their review systems to keep their overall star rating high.
However, brands underestimate the importance of authenticity, and bad reviews can add realism.
This practice can lead to a review section that is not an honest product description.
"And that's where you can really go wrong because if you lose that trust with your customer you just can't get it back." - Arsenault.
Focusing on Reviews with Media
Brands must focus on reviews showcasing their product with pictures and videos.
62% of consumers are more likely to make a purchase if they see photo and video content in reviews.
Customers can learn if a brand's product is right for them, resulting in finding the right customers.
"Reviews in their best state should increase conversion and they should decrease your return rate." - Arsenault
This effect may seem negative in the short term as less customers may purchase, but it is a net positive for the brand as returns are expensive.
It can be challenging for brands to encourage consumers to leave reviews. Only about 5 to 10% of customers leave online reviews.
Make it Easy for Customers to Leave Reviews and Find Your Products
One of the core reasons customers, even when thrilled with their order, don't leave a review is that brands make it too difficult, especially on mobile devices.
Brands can utilize Junip to ensure that their review section is authentic.
"We're the best way for you to gather reviews and use them everywhere that matters." - Arsenault.
Omnichannel brands are looking to get creative with how they solicit customer reviews.
"We have one retailer that's including a business card style, like a drop in with the QR code to their review link so the customer can scan that and then go into the review experience." - Arsenault
Reviews are a powerful way that brands can engage and validate their products with customers, which leads to better conversion rates and customer satisfaction, but that is not the only issue they are facing.
Omnichannel brands also have to take barriers down when it comes to finding their products to facilitate a better customer experience.
Brands can utilize Lucky to offer same-day fulfillment and in-store availability through retail.
"With Lucky you can make it as easy as possible for them to find products through your site." - Parmar
Using Junip and Lucky, brands can help potential customers fully understand if their product is right for them and then find the fastest purchasing option.
If you're a brand, set up some time to learn more.
Ready to
scale your retail and eCommerce sales

using Lucky's data?
Boost retail sales
Optimize marketing
Capture retail attribution
Book demo