Making It Easy to Find, Purchase, and Review Your Products with Junip & Lucky
September 21, 2022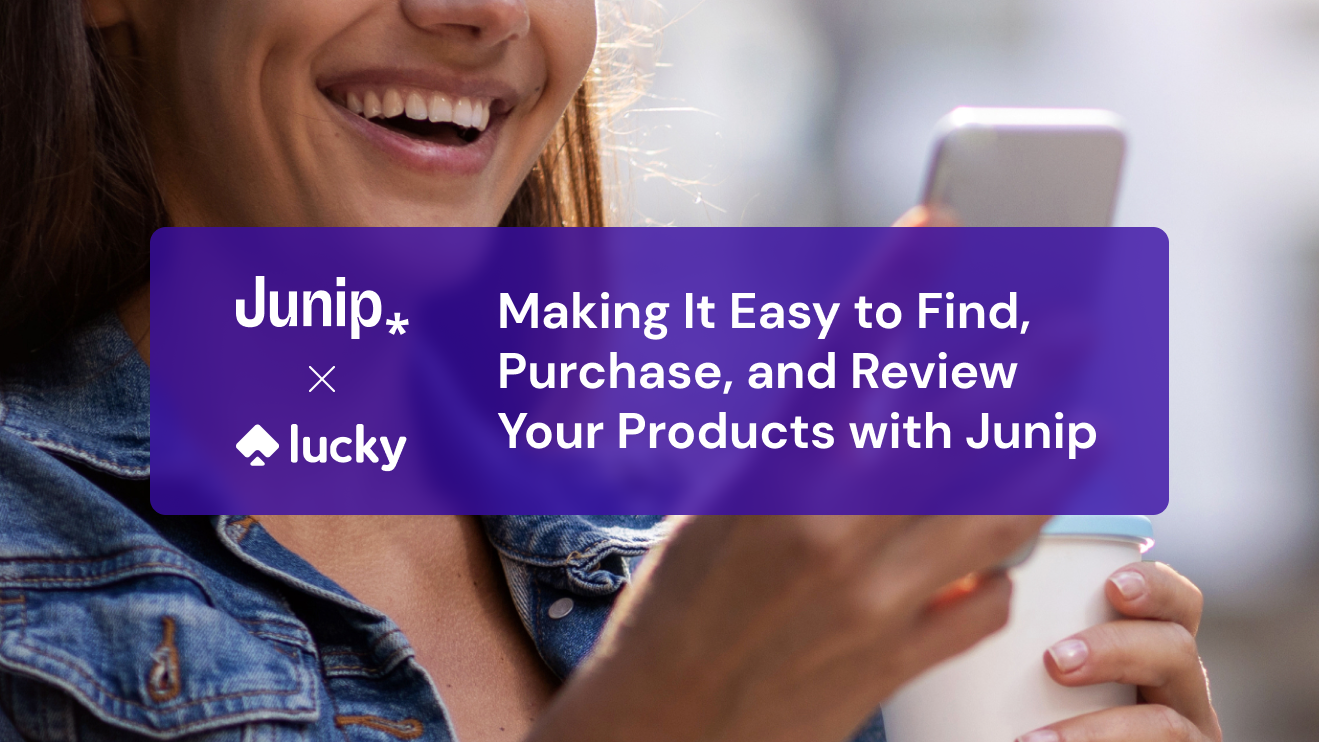 In a world of increased competition, brands have to stand out from the crowd. Brands have the ability to drive connections with customers to create bonds that can lead to lifelong loyalty. Stuart Arsenault, CEO of Junip, sat down with our own CEO, Sneh Parmar, to discuss how brands can make it easier to leave reviews and find their products to deliver better customer experiences.
Brands Facing Increased Competition
Launching a brand online is easier than ever before.
E-commerce brands that benefited greatly from the surge in eCommerce are facing more competitive pressures.
Each year more than 30,000 consumer brands are launched.
"If you have a DTC brand or any brand that's a product, you innately will have a competitor if you don't right now in the next six months, because that's how easy it is to get a new product up and going and launched." – Arsenault
Consumers will often spend their money where they have the best experience.
Heavier Reliance on Online Reviews
As brands deal with the aftermath of iOS 14 where companies are struggling to reach customers through previously established marketing channels, more emphasis is placed on reviews.
"And so now we still have it's still easier than it's ever been to get your own brand and business online. It's just no longer easier than it's ever been to attract the customer." – Arsenault
Intent-based shopping channels, such as Google Shopping, are more critical than before.
Brands are looking for more high-quality reviews with user-generated content, such as photos and videos.
62% of consumers are more likely to make a purchase if they see photo and video content in reviews.
Also, reviews typically only live on the platform where they are left, such as Google Reviews.
Junip makes it easier for brands to share reviews wherever they can make the most significant impact.
Ease is Everything
Customers will leave reviews and purchase a brand's product the easiest way possible.
Any resistance they encounter can lead to a lost sale or lost review.
Junip is arguably the best way for brands to gather reviews and use them everywhere that matters.
"And if you don't make it as easy as possible for them to work with you, leave reviews by locally, whatever it may be, they're just going to go find your competitor." – Arsenault
Lucky enables consumers to find a brand's products easily through local retailers for same-day fulfillment while keeping consumers in a brand's ecosystem.
"With Lucky, you can make it as easy as possible for them to find through your site. So you can combine brand affinity with that brand impression." – Parmar
Retail and E-Commerce Working Together
Pre-2012, retailers had complete control over the customer experience.
That began to change in 2012 through 2018 as eCommerce began to eat into retail's market share, and that trend has only continued to accelerate in the years since.
E-commerce and retail are now working together to create the best possible consumer experience.
Because of this, more digitally native brands are looking to get into retailers.
Online brands can offer same-day fulfillment through retailers with Lucky to deliver the product as soon as possible and then collect a review with Junip to ensure they stay in the brand's ecosystem.
If you're a brand, contact Lucky and set up some time to learn more.

Ready to
scale your retail and eCommerce sales

using Lucky's data?
Boost retail sales
Optimize marketing
Capture retail attribution
Book demo