Lucky Raises $3M Seed Round to Build the Platform for Omnichannel Commerce
April 08, 2022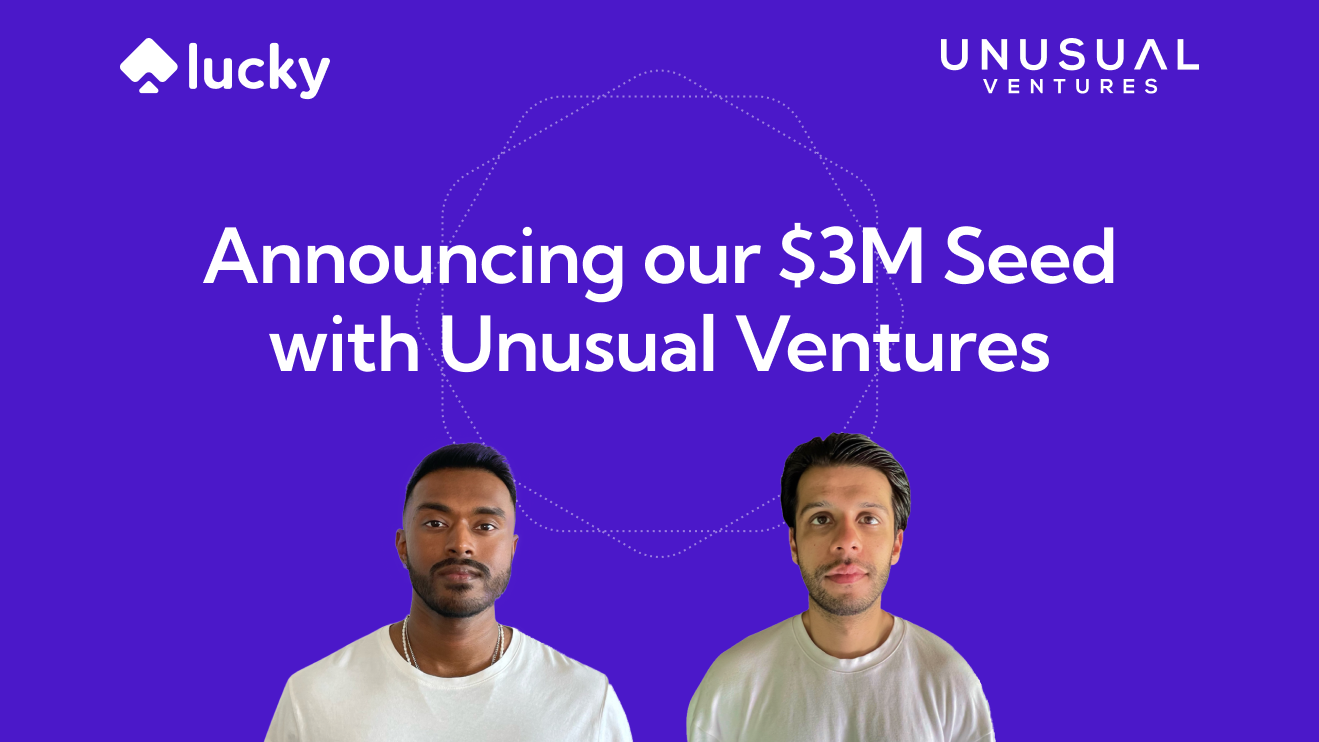 ㅤ
Check out our feature on TechCrunch to read more.
ㅤ
Connecting Commerce: Lucky's Vision of Omnichannel 🛍
Lucky's belief is that it should be easier for people to experience the brands they love. We think the massive gap between online and offline experiences is a relic of an obsolete era, and brands who bridge that gulf will build better, more meaningful relationships with their customers. And for those customers, it means our shopping experiences will finally catch up to the hybrid lives we've all started living. We desire more efficiency and connection in these experiences, and it's time for a company to build this from the ground-up.
Our vision is to connect commerce across all channels to provide products and services that ultimately benefit the end customer — people like you and me. We have seen the hyper-growth of e-commerce and retail move in different ways over the last decade, ultimately leading to this gap between two powerful modes of shopping that has yet to be linked efficiently. Our founders, Sneh Parmar and Nafis Azad, have set forth on a mission to create products to intertwine these all in a beautifully seamless manner — making a customer's journey from online to retail and beyond feel polished and well-manicured. We begin our journey in creating the truest version of omnichannel commerce by connecting brand and retail inventory — seamlessly and actionably for local fulfillment.
The growth of the most innovative and interesting brands has always led to omnichannel becoming a definitive growth strategy. However, the disparate connectivity in data and process has limited the effectiveness of leveraging these channels as synergistic services for customers and rather turned them into competitive forces. Most brands will look at these as separate, siloed strategies to nurture. We believe that these should be looked at as continuous, fluid strategies that strengthen each other. As a company, improving how people shop is our top priority. Shopping and commerce have been a constant in humanity, but the methods in which this occurs have undergone an evolution that requires refinement and unification. While these continue to evolve, we hope to build the bridges between where and when someone wants a product, ultimately integrating into an ecosystem where experiences are heightened exponentially.
ㅤ
ㅤ
Democratizing Access and Sustainable Growth 📈
Lucky's fascination with helping brands and retailers scale together is a result of what they both sell: products. Product is one of the ways our world innovates, changes, and grows. Today, the products that make it into the hands of a mass number of people are dictated based on inefficient systems and rules. The products that win are not necessarily the best ones, but the ones that have existing access and resources. New products can change society — DTC started the movement to democratize the ability for new brands to create this impact, and we hope to further it by creating a level playing field through our platform, giving even the youngest of high-growth brands technological access to the local and omnichannel presence they need to succeed. Our platform gives critical insights into key patterns of retail purchase behavior and geographic demand based on specific customers and products. The power brands and retailers gain to accurately merchandise and scale through data-driven decisions offers both parties the capability to grow with each other.
Furthermore, sustainability has always been a huge driver of our mission. Many companies treat sustainability as a veneer for ancillary programs far removed from the core of their business. We believe in truly creating sustainability that has a huge effect, while being as easy or easier than the existing non-sustainable process. Shipping is already affecting the environment negatively, all while supply chain issues continue to bottleneck the growth of commerce. We waste physical retail space with inefficient merchandising due to a lack of data on where and why products should be sold near us. All of these things are signals that the ecosystem requires change. By connecting a brand to all of its inventory across every retail node in the ecosystem, we can take a brand with limited distribution and instantly give them the capabilities of a large-scale enterprise — without any logistical effort or waste. With our solution leveraging existing distribution, we are inherently creating the most sustainable option for fast, efficient fulfillment, while improving sales and conversion for both sides.
This is the vision we are setting out to build, the way only our team at Lucky can do.
Partnering with Unusual Ventures 🤝
To achieve this, we're happy to announce that we've raised a $3M Seed Round led by Unusual Ventures, with participation from Plug and Play Ventures and a group of inspiring angels.
From our first conversation with Rachel Star at Unusual, we knew they understood our mission and had a deep belief in our vision. Unusual has been proven investors in many successful companies in the past, and we can see why: they have been valuable partners already in digging into our company and helping with growth milestones. Rachel's specific balance of engineering mindset and consumer behavior background has been a key source of insight and expertise for our team.
ㅤ
"After experiencing these data silos firsthand while working at Nordstrom and other major retailers, I understood the need for Lucky right off the bat. Getting to know Sneh and Nafis further only deepened my conviction - they are truly students of their customers and will not stop until they deliver a world-class experience for everyone." — Rachel Star, Unusual Ventures
ㅤ
We are also excited to welcome some incredible industry leaders and angel investors such as Sara Du (CEO, Alloy Automation), Kyle Wong (CEO, Pixlee), Wesley Matthews (NBA veteran), Kyle Schroeder (Former Founder, Cremo), and more.
We are so grateful for all the partners that have committed to helping us on our journey, named and unnamed. The group of angels, investors, advisors, community partners, friends, and family that have joined us for the ride have become our critical support and mentorship system. Thank you!
What's Next 🔋
With our mission of connecting commerce starting to take off, we're excited to share some of our recent product and team growth.
Expanding Product Network + Integrations: Our platform integrating brands and retailer inventory will continue to scale as we add new brands and retail partners to our network. By growing our integration capabilities, we plan to have the ability to work with every single brand and retailer regardless of size or platform. We plan to build deep partnerships with e-commerce leaders and retailers that are driving forward with omnichannel innovation in their companies.
ㅤ
ㅤ
Launching New Product Experiences + Services: Our foremost goal is to help customers get products in the fastest, most seamless, and efficient manner. To do so, we are working on new product experiences to make it easier to find and purchase products in the best way for you, and services to connect our ecosystem even further. While we do this, we continue to live by one of our driving product principles: "What will make this feel Lucky."
ㅤ
ㅤ
Supercharging our Engineering + Sales Teams: Our main reason for raising funding is so we can hire the greatest minds in the commerce software space. Our engineering team is dedicated to building the connections for omnichannel commerce, and our sales team is hungry to partner with brands in their growth. Read more on that below.
ㅤ
ㅤ
Build With Us 🚀
Believe in our vision?
We've got a ton of interesting and impactful problems to solve. We are building a world-class team to overcome and conquer these challenges with us. We are remote-first, with hubs in New York and Miami. We are looking to work with motivated, creative, and passionate people like us. Check out our open roles and get in touch. We'd love your help in bringing this all to life.
Brand looking to try Lucky?
Just want to stay in touch?
ㅤ
This is only the beginning! We are so excited to go forward on this journey and share more of our insights, vision, and milestones with you.
Sneh Parmar & Nafis Azad, Founders of Lucky
Ready to
scale your retail and eCommerce sales

using Lucky's data?
Boost retail sales
Optimize marketing
Capture retail attribution
Book demo