Leveraging OOH Advertising to Drive Online and Offline Sales With Adgile and Lucky
December 14, 2022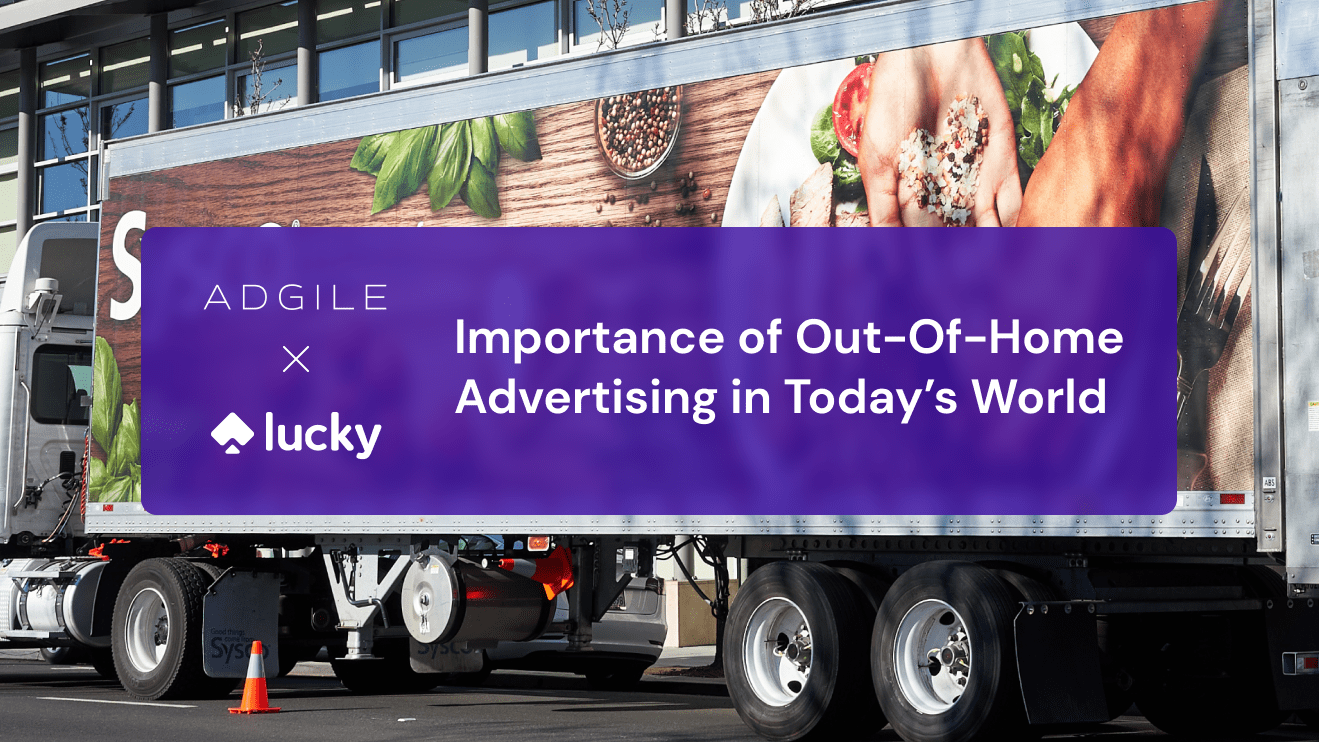 Out-of-home (OOH) advertising is a medium that has been around for centuries, dating back to the days when towns would post notices on bulletin boards or town criers would walk the streets shouting the latest news. Today, out-of-home advertising takes many different forms, from billboards and bus benches to digital signage and beyond. Our own Sneh Parmar sat down with Adgile Media Group Co-Founder and President, Max Flannery, to discuss how digitally native brands can use advertising on last-mile-delivery trucks to drive online and offline sales.

Importance of Out-Of-Home Advertising in Today's World
Brands are looking for other forms of advertising to reach their target audience as online targeted ads become less effective with iOS 15.
CPG companies are used to Facebook and Instagram ads, but out-of-home advertising potentially has the same or better effectiveness metrics.
The global OOH advertising market is expected to continue to grow at a compound annual growth rate of 9.5% over the next several years.
Out-of-home advertising demand was skyrocketing, but there were no new ways to advertise, building more billboards is not cost-effective, and there is too much government red tape.
Flannery considered how to increase OOH advertising given the demand and realized that they could use wrapping on last-mile delivery trucks.
OOH Advertising on Last-Mile-Delivery Trucks
Adgile Media Group enables brands to wrap local delivery trucks around the country, which brands seem to love.
"We have over a 75% customer renewal rate. So once these brands start working with us, they seem to stick around for quite a while." - Flannery
When asked why they renew their subscription, Adgile customers say it's because everyone knows they paid for an ad when they buy a billboard, but it is not the same as their service.
When potential customers see trucks wrapped with company branding and think that the company must be successful and is bigger if they can afford to do this type of marketing.
"People think that this medium-sized women's skincare company is actually a little bigger than it is." - Flannery
The strategy behind the wrap exploits human psychology by making people curious about what their neighbors are using.
Geofencing
Adgile has partnerships with large trucking companies, which helps them to be specific about where the trucks travel.
The company is able to geofence retail locations and pick trucks that spend most of their time close to those retail locations.
"To be able to get those trucks in a very specific area that the brand wants is cool." - Parmer
This capability helps push retail sales through even though the trucks aren't delivering products directly to certain retail locations, such as Whole Foods.
Tracking OOH Performance

They learned that brands expect some sort of attribution or effectiveness metrics for this kind of advertising, so they set out to provide those.
A data platform tracks anonymous mobile phone locations, ad views, audience demographics, and online product purchases.
They expect to see three times as many visits to the website's home page and two times as many purchases or conversions.
Having this measurement platform will help give brands confidence that their customers' behavior can be changed.

Lucky and Adgile Media Group to Drive Sales

Brands can utilize Adgile's services to reach more customers in specific areas and demographics.
For example, if a brand is launching a new product in Whole Foods, they can use Adgile to advertise the product around Whole Foods locations.
Lucky can work in tandem with Adgile to offer consumers goods both online and in-store at the closest retailers.

Lucky and Adgile Media Group can help digitally native brands reach more customers, and better meet their needs. If you are a brand and interested in learning more about Lucky or Adgile Media Group, reach out today.
Ready to
scale your retail and eCommerce sales

using Lucky's data?
Boost retail sales
Optimize marketing
Capture retail attribution
Book demo