Improving Customer Shopping Experiences with Lucky & Status Customer Accounts
December 07, 2022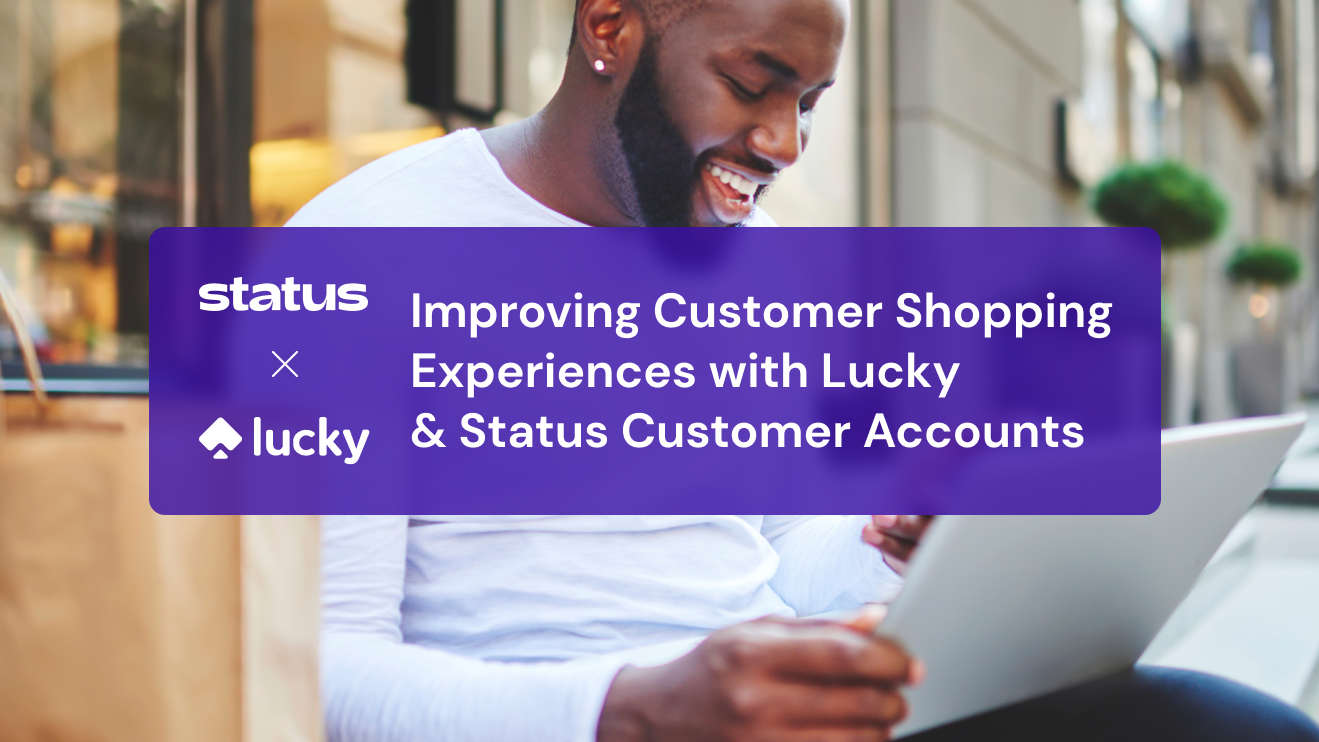 Making customers feel special is a great way to improve customer-brand relationships. Digitally native brands are constantly looking for new ways to connect with their customers. One overlooked pathway is the customer account. Our own Sneh Parmar sat down with Status co-founder, Joe Vancena, to discuss how customer accounts can help brands deepen customer relationships.
Online Shoppers Face Decision Paralysis
Customers can be overwhelmed when first getting to a digitally native brand's website.
Currently, e-commerce websites are often too generalized for online shoppers.
Brands are showing potential shoppers options that they would never consider.
One consumer survey found that 42% of consumers abandoned their purchase because there were too many options available.
"And just if you focus on the NFL, 32 teams, so you have one sweatshirt, one sport, one team, and now you've got six sizes. So it's like just it's an exponential problem" - Vancena
For example, a Buffalo Bills fan will likely never purchase a Miami Dolphins jersey, but brands may show this merchandise to a Bills fan.
We are seeing limited options when it comes to fulfillment as well. When customers are shopping they should be given their preferred method of receiving that product, whether that's buying DTC, from the retailer, via a marketplace they are associated with.
This lack of personalization leads to an inferior shopping experience and potentially negative customer interactions.
Customers may become annoyed with a brand if they are constantly shown products they cannot use or are not interested in.
Customer Accounts are Blank
Customer accounts on eCommerce websites are not utilized.
Brands want to give customers personalized shopping experiences but have neglected this critical piece of real estate.
"The one place on your site that is built for me as a shopper, you've completely neglected my ownership of your website." - Vancena
Typically, customer accounts only have a few pieces of information, such as order history.
Plus, D2C brands struggle to identify customers when they arrive at their websites.
These issues can be solved in part through logged-in commerce.
The Importance of Logged-In Commerce
Brands were used to using advertising and cookie tracking to get the right customers to their eCommerce site.
With that no longer being possible, brands need to adjust.
Giving customers a place to log in to vastly improve their shopping experience can lead to better customer relationships.
When brands know who their customer is, they can better serve their unique needs.
In this model, the customer owns the data.
Brands can make different decisions to optimize each customer's web or mobile shopping experience.
Customers will spend less time looking at products that do not apply to them.
Overall, logged-in commerce can lead to better customer shopping experiences.
Lucky and Status to Drive Improved Customer Relationships
Lucky and Status go hand in hand for digitally native brands.
Brands can use Status to improve the customer experience.
"Status is a key that unlocks the door of logged-in commerce." - Vancena
Status enables brands to create exceptional customer accounts that help create memorable, personalized shopping experiences.
Using logged-in commerce and Lucky, brands can show customers the quickest and most sustainable option to get their product.
Lucky shows customers the closest retail option for the goods they will purchase.
Lucky and Status are dedicated to helping digitally native brands navigate the new age of e-commerce. If you're a brand, reach out to the Lucky and Status teams today to learn how you can leverage our technologies to foster better customer relationships. Set up some time to learn more.
Ready to
scale your retail and eCommerce sales

using Lucky's data?
Boost retail sales
Optimize marketing
Capture retail attribution
Book demo