How Repeat and Lucky Uses Personalization & Purchase Options to Increase Sales
January 04, 2023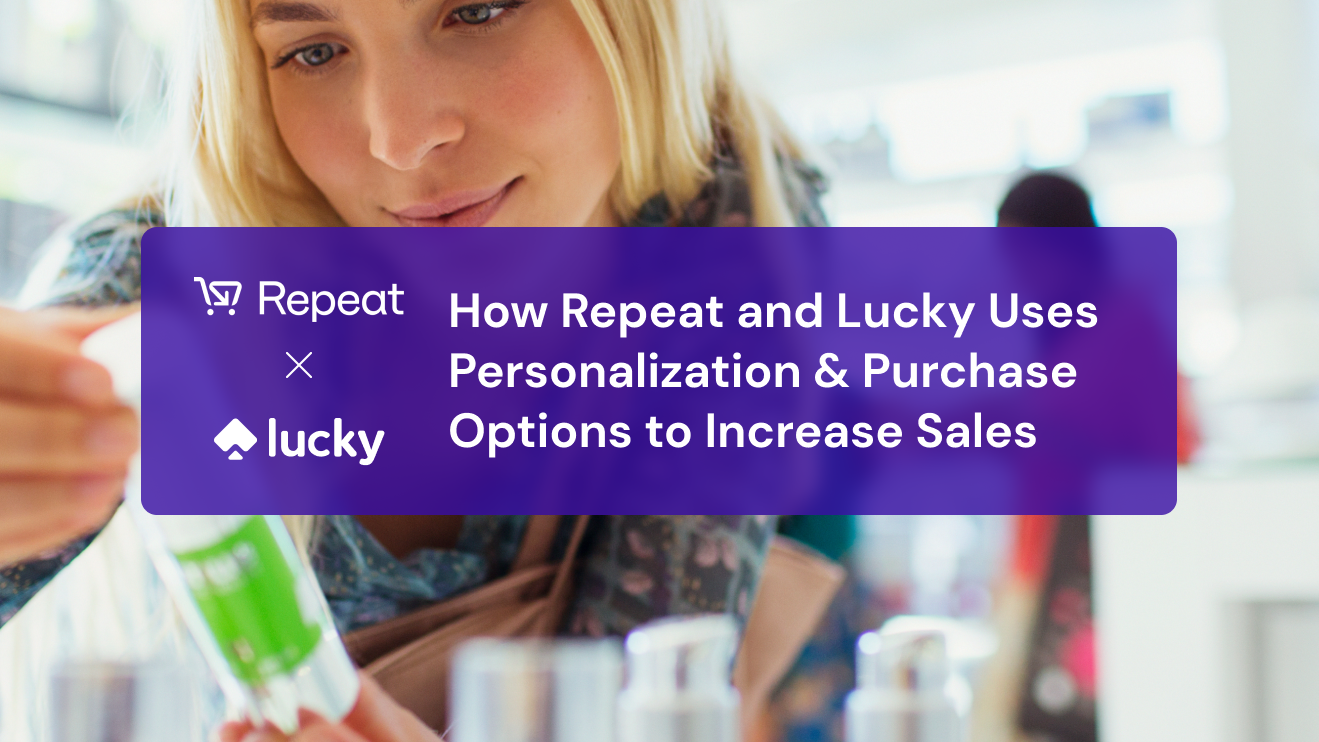 At the heart of every successful online brand is a strong sense of personalization. Customers today expect their experiences to be tailored to their individual preferences, and they are quick to take their business elsewhere if they don't feel that their needs are being taken into account. Our own Sneh Parmar sat down with Partnerships Manager at Repeat, Kaesaan Mimms, to discuss how brands can use personalization to drive more sales.

DTC and Omnichannel Brands
Repeat customers are the bread and butter of any eCommerce business.
However, many DTC and omnichannel brand websites are focused on converting first-time visitors into first-time customers.
Shopify found that online retailers have an average repeat customer rate of 28.2%.
Brands should be focusing on customers that are in their ecosystem.
"Your most frequent customer and most loyal customer, those are the ones that the brand should focus on." -Parmar
Online Shoppers want Personalization

Now more than ever, online shoppers want to feel that they are catered to directly.
A study conducted by Elastic found that 84% of online shoppers prefer personalization.
"When customers now shop brands, they want to feel like they are the only ones the brand is talking to." - Parmar
Repeat customers, especially in the CPG space, may have an extended order history and could forget about items they previously ordered.
Providing a personalized shopping experience and shopping carts can lead to better customer experiences.
Personalized Shopping Experiences can Lead to More Sales
Digitally native brands can develop personalized shopping experiences when they go to repurchase products.
Brands have found that customers order more when they are shown their entire shopping history and recommended products when reordering.
"We find that about 40% of people purchase the specific product that they need to reorder, but then another 40% is other products from their previous purchase history, as well as 20% coming from recommended products." - Mimms
Omnichannel brands can show customers options to purchase their products both online and at nearby stores to further personalize their experience.
Repeat and Lucky Helps Brands Personalize the Online Shopping Experience
Repeat uses data automation and personalized reordering experiences to drive revenue from existing customers.
They can help brands develop personalized shopping carts when customers reorder previously purchased products.
"And we actually give the customer a lot of agency within the cart to select either different variants or other kinds of products that could potentially be mapped to that SKU." - Mimms
Personalized carts are not the end-all for Repeat; they plan to dive further into marketing automation to put more time back in the hands of marketers.
Sometimes a customer's personal shopping journey is more about how they get the product. In that case, Lucky will showcase the nearest retailers that carry the items the online shopper is looking at to offer those options.
Together these tools can be used to deliver a more personalized shopping experience.

Lucky and Repeat can help digitally native brands better understand and serve their customers. If you are a brand and interested in learning more about Lucky or Repeat, reach out today.
Ready to
scale your retail and eCommerce sales

using Lucky's data?
Boost retail sales
Optimize marketing
Capture retail attribution
Book demo