How Factored Quality & Lucky Can Help Brands Expand Faster to More Retailers
October 06, 2022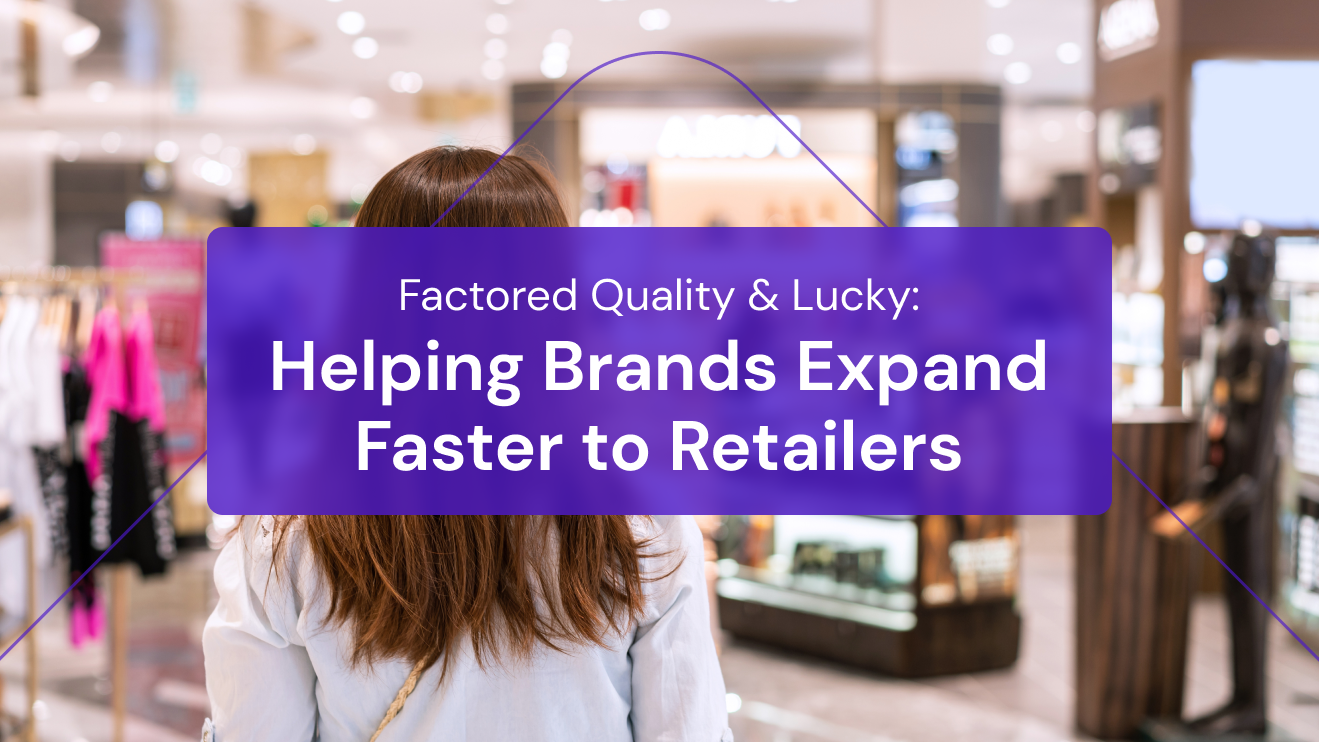 More digitally native brands are expanding into retail stores than ever. Expanding into retail stores introduces a number of quality control factors that can affect the growth of a brand. Our own Sneh Parmar chatted with Prince Ghosh, Co-Founder and CEO of Factored Quality, to discuss how quality is vital when working with retailers.

Digitally Native Brands Expanding to Retail

Digitally native direct-to-consumer (DTC) companies are experimenting with omnichannel strategies that include physical retail locations.
Retail locations can offer nationwide exposure and visibility, serve as a distribution point, and offer a chance for brands to interact with customers.
Lucky works with digitally native brands to offer same-day fulfillment and in-store availability through retail.
The retail space can be incredibly lucrative for brands that are purely focused on e-commerce.
"Bonobos famously did so much more revenue selling through Nordstrom than selling digitally natively that their Nordstrom revenue literally is what enabled the business to continue to sell through e-commerce channels as well." – Ghosh
Selling into nationwide retailers comes with its own set of unique challenges.

How Quality Affects Retail Expansion

Retail sales also come with a unique set of compliance standards, such as factory safety and product quality, that brands must meet to sell in large retailers.
This requirement is because now it's not just the DTC brand name on the line - it's also the retailer's brand name.
"And you will 100% see quality standards become even more stringent because now it's not just Glossier's name on the line right now, it's also Sephora's name on the line." – Ghosh
Retailers will have stricter quality standards for DTC brands that want to sell in their stores, so brands need to be prepared to meet those standards.

Retail Chargebacks

The retailer can charge the brand for the return if a customer returns a defective product to the store.
By doing quality control at every step of the supply chain, brands can ensure that their products meet retailer standards and minimize chargebacks and returns.
With products often being sourced from multiple countries, it is essential to have a robust QC system in place to ensure that products meet the required standards.

Quality Control Documentation

If a retailer has its own quality control partners, it may require that the brand allow them to inspect the product and the supply chain before agreeing to sell the product.
This requirement allows them to get a first-hand look at the brand's supply chain and confirm that it meets its rigorous standards.
To handle these quality concerns, many brands hire independent quality control agencies to ensure high quality at every stage of the supply chain.
To handle finding and managing quality control auditors, brands can work with Factored Quality.

Factored Quality's Approach

Factored Quality helps brands find and manage quality control inspectors to maintain quality for retailers.
Lucky is proud to partner with Factored Quality to help brands reach their full omnichannel potential.

Ghosh went on to add, "if you're an e-commerce brand that is struggling with quality or has ever even just wished they could see what's happening on their manufacturing floor right now, reach out and I'd be happy to help out there and offer a discount."

If you're a brand, contact Lucky and set up some time to learn more.
Ready to
scale your retail and eCommerce sales

using Lucky's data?
Boost retail sales
Optimize marketing
Capture retail attribution
Book demo