How Adgile and Lucky Utilize Marketing and Merchandising to Scale Retail Sales
January 18, 2023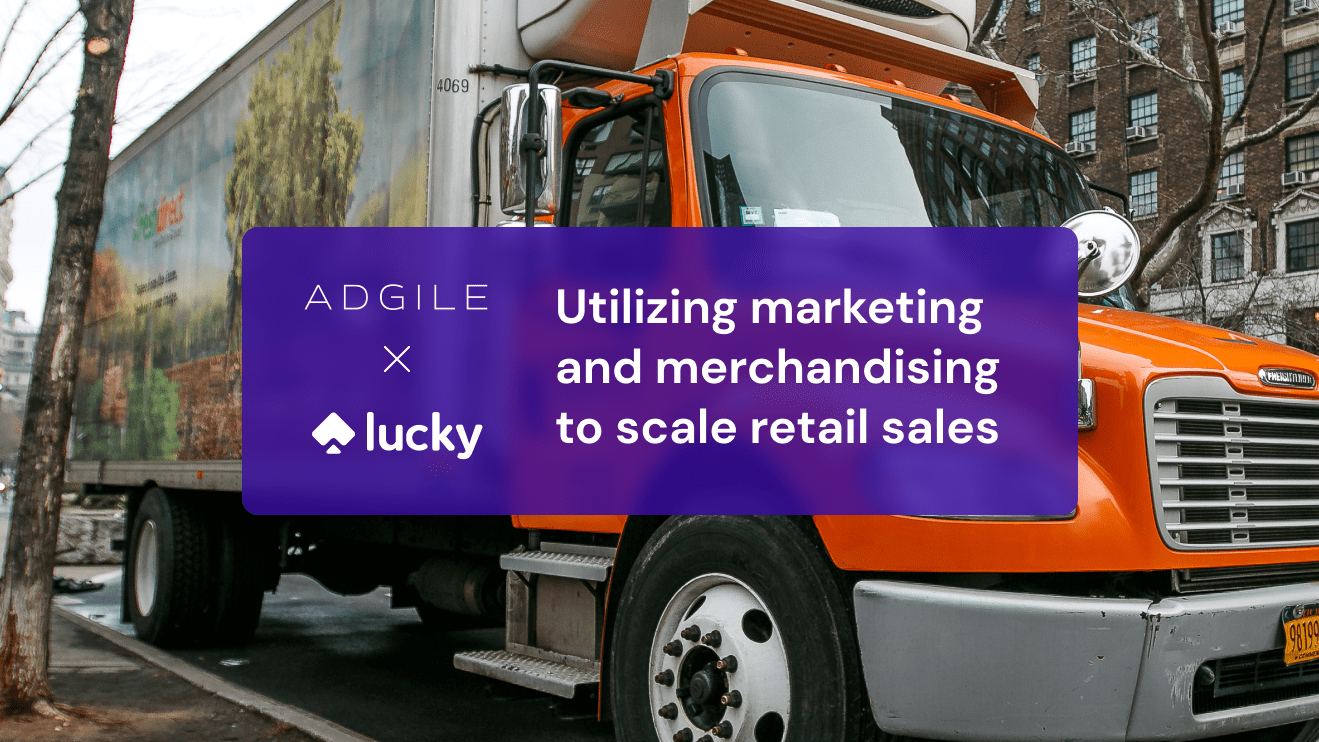 Consumer packaged goods (CPG) companies are continually looking for innovative ways to grow sales and raise brand awareness. Out-of-home (OOH) advertising is an effective way for CPG brands to reach consumers and grow sales. By placing ads in strategic locations, brands can ensure that a wide audience sees their message. Our own Sneh Parmar sat down with Adgile Media Group Co-Founder and President, Max Flannery, to discuss how brands can use OOH advertising to scale retail sales.
DTC Brands Looking to Appear Bigger

Some companies are trying to get into retail in order to look larger than they are.
These companies believe that having a store or some real-world presence will lift the entire brand.
However, many brands do not have the capital to get into retail stores or open their own stores.
Brands are looking for alternative ways to advertise their products other than digital platforms.
Brands can use out-of-home advertising to reach new customers.
According to one study, 26% of customers have visited a store after seeing an OOH advertisement.

Out-of-Home Advertising to Scale Retail Sales

Brands can use out-of-home advertising that is strategically placed to provoke curiosity and prompt people to look into the product more.
Using wrapping on last-mile-delivery trucks is an effective way for companies to utilize OOH advertising.
This strategy helps brands stand out from the competition with a unique and differentiated retail strategy.
Brands can gain an advantage over competitors by appearing larger and more established.
"They think it's moving all this product. They think it houses brands so successful that, I didn't know all my neighbors must be using it. What am I missing out on? Let me try." - Flannery."
Using Targeted Trucks
Trucks travel to close proximity of desired retail locations, which helps increase sales at retail locations.
By using targeted marketing campaigns, businesses can reach new customer segments and promote special deals and discounts.
Geofencing allows for pinpoint accuracy in advertising and marketing efforts.
"And there's a CPG brand that is launching across multiple bodegas. Or let's say some of the mass market retailers. And they really want to drive that traffic and sales. And that's a great way to do so." - Parmer
This validation in the customer's mind increases the likelihood of them buying directly from the brand or purchasing the product at retail.

Not Just for CPG Brands

Other brands outside of CPG are willing to try this form of advertising.
Companies from various industries can find value in using a truck as an advertisement platform, as it is more efficient and cost-effective than other methods.
The truck is already on the road, so there is no extra overhead or expenses needed to get started.
"So even brands that aren't CPG are willing to give it a shot just to get their brand out there." - Flannery
Lucky and Adgile Media Group to Scale Sales

Adgile Media Group gives brands an effective way to reach customers through advertising on last-mile-delivery vehicles.
Brands can advertise their products in certain areas where their potential customers are located.
Brands can utilize Lucky to show customers the closest retailer to find their products.

Lucky and Adgile Media Group can help CPG and other brands reach more customers and grow retail sales. If you are a brand and interested in learning more about Lucky or Adgile Media Group, reach out today.
Ready to
scale your retail and eCommerce sales

using Lucky's data?
Boost retail sales
Optimize marketing
Capture retail attribution
Book demo